This weekend will see hundreds of people gathering in Lichfield to entertain the bank holiday crowds.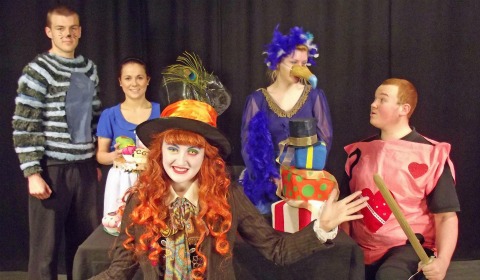 Scott Harrison as the Cheshire Cat (Judas), Natasha Pryjmachuk (costume designer) dressed as Alice (disciple), Amanda Pinson as the Mad Hatter (Jesus), Lydia Clements as the Dodo (James) and Ashley Booker as a Card Guard (Malchus)
Lichfield Mysteries, a free event, brings drama, music, dance, poetry, puppetry and art together in one spectacular package.
Hundreds of actors from groups around the region will perform 24 plays on Market Square and again in Lichfield Cathedral, culminating in the dramatic climax to the Mysteries, Doomsday, in the Cathedral.
Professional directors, designers and musicians have joined forces with amateur actors and directors to bring Lichfield Mysteries 2012 to life.
And this Mysteries promises to be very different from previous successful productions.
There will be more drama, more music, more dancing and some memorable, modern interpretations of the stories, alongside more traditional performances.
Professional Production Director Mark Fitzgerald, the Artistic Director for the noted Questors Theatre in Ealing, heads up the team. He said: "Having recently seen the dress rehearsals I can say we are in for a real treat this year. This time it was decided for each play to have it's own vision. This has been a tremendous success. The great variety of styles and approach will make for a genuine mysteries' experience."
Ros Hallifax, chair of the Council of Management which has organised the event, said the groups involved have produced some outstanding plays and quite a few surprises.
"Audiences can look forward to lots of music and dance," she said. "Themes for some plays include a Victorian circus, a carnival, an 80s pub, and The Last Supper is a Mad Hatter's tea party!
"Groups from schools, churches, colleges and theatre companies have been joined by casts made up of friends, to bring the stories to life. And we are pleased to welcome groups from our twin towns of Limburg in Germany and Ste Foy in France.
"I am looking forward to seeing the final productions and I hope that our audiences enjoy the performances as much as the groups have enjoyed preparing their presentations.
Lichfield Mysteries are on the May Day bank holiday weekend – May 6 and 7. Performances start on Market Square at 11.30am and in the Cathedral at 1pm. More details are available at www.lichfieldmysteries.co.uk.